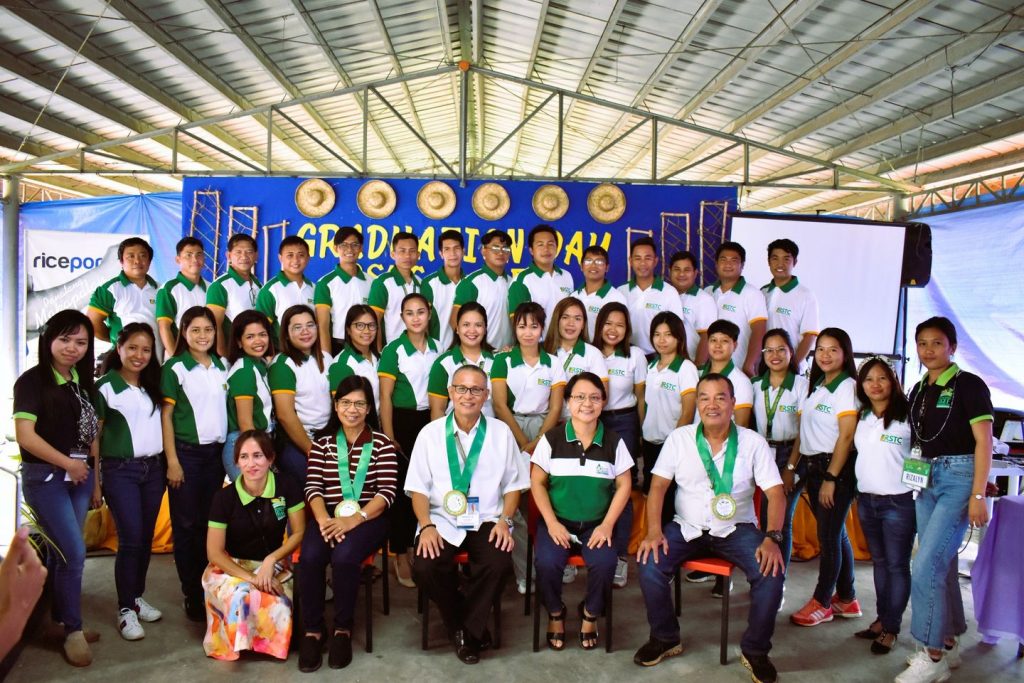 The downpour on Friday morning did not waver the graduation of the 29 Rice Specialists and 120 farmers in Department of Agriculture – Philippine Rice Research Institute (DA-PhilRice) Negros, Cansilayan, Murcia, last July 28, 2022.
The arduous 4-month training consists of lectures, field hands-on activities, and conduct of farmer field schools (FFS) in 4 barangays have paid off, as the 29 agriculture extension workers (AEWs) who started on April 18 have successfully received their Certificate of Completion, entailing that they are now a certified rice specialist.
Hermie Jones Basilio, a rice technician from OPA Negros Occidental, likened their Rice Specialists Training Course(RSTC) experience to planting rice, where they were also carefully selected to be part of this training. The training management team have nurtured them into a rice specialist, and now, they are ready to be trainers.
Hannah Lorenda Lindo from Antique said that the real challenge comes when they are already back to their provinces and start training fellow Agricultural Extension Workers (AEW) and farmers in their areas.
The farmers field school under the RSTC were from the barangays of the municipality of Murcia: namely, Brgy. Lopez Jaena, Salvacion, Minoyan, and Sta. Rosa. Farmers appreciated their trainers in the 10-day Farmer Field School (FFS) through a creative presentation of their learnings.
In their testimonials, Eduardo Belleza froom Brgy. Minoyan expressed that despite being already a senior citizen, he still learned more in the Agro-ecosystem Analysis they participated. Danilo Morales from Brgy. Lopez Jaena conveyed the gladness and willingness of his fellow farmers to participate again if there is another training of this kind.
Present during the event were representatives from the province of Negros Occidental and Murcia Mayor's office. The officials have a unified message to the graduates: "The expectation is high"
The RSTC is part of the Rice Competitiveness Enhancement Fund-Rice Extension Services Program (RCEF-RESP), a component of Republic Act 11203 or Rice Tariffication Law authored by Sen Cynthia A. Villar. The RTL allocates P10 billion to RCEF every year to enhance the capacities of rice farmers to become competitive in rice production. For more information about the program, queries can be sent thru Agricultural Training Institute(DA-ATI). (DA-PhilRice Negros, FB)