School-An-Oir Trains W. Visayas Farmers on Climate-Resilient Agri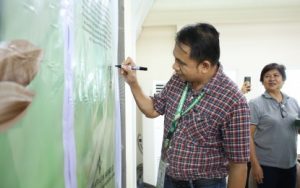 The third season of the school-on-air (SOA) being implemented as one of the components of the Rice Competitiveness Enhancement Fund (RCEF) and to air next week will benefit 2,560 rice farmers in Iloilo City, Western Visayas.
"That is part of the component of the RCEF under the Agricultural Training Institute (ATI). Though this program, we try to raise their awareness on climate change resilient technologies that we discuss on air," said James Earl Ogatis, head of the Regional Agri-Fishery Information Section (RAFIS) of the Department of Agriculture in Western Visayas on Wednesday.
The rice farmer-beneficiaries of SOA will come from Guimaras with 150, Aklan with 300, Iloilo and Capiz have 700 each, and 710 from Negros Occidental.
Ogatis said all farmers who are enrolled with the SOA are the recipients of palay seeds under the RCEF program.
"We have been successfully implementing the School-on-Air for the last two years. For this season we target those who were not able to join the first and second season. We wanted to cover all those who received palay seeds," he added. The first two seasons served 3,900 farmers.
SOA is implemented in collaboration with ATI, Philippine Rice Research Institute, International Rice Research Institute, and the Philippine Center for Postharvest Development and Mechanization.
The program was officially launched on Tuesday and will start with the simultaneous airing of its first module on six radio stations in the region next week.
It will cover over 30 modules that will be discussed every Wednesday and Thursday for four months.
Ogatis said that they have been scheduling attached agencies of the department to discuss their programs.
Likewise, they like to encourage young farmers to get involved as a way of addressing the aging population of the agriculture sector. (Perla Lena, PNA)