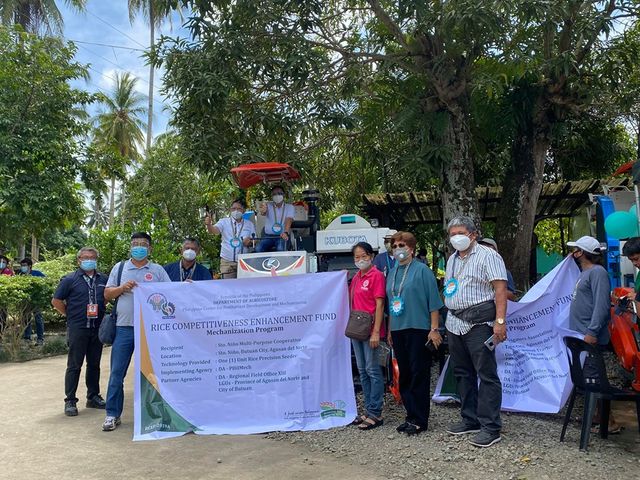 The Rice Competitiveness Enhancement Fund (RCEF) Mechanization Program, through the Philippine Center for Postharvest Development and Mechanization (PHilMech), turns over 113 units of agricultural machines to qualified farmers' cooperatives and associations (FCAs) in CARAGA region.
The turn-over was held on August 20, 2020 at the DA Integrated Laboratory Division, Taguibo, Butuan City. The DA Regional Field Office XIII and other local government officials graced the event.
The 26 FCAs with an estimated 4,570 farmer-members were carefully evaluated and shortlisted by the Facility Management and Field Operations Division (FMFOD) of PHilMech, headed by Mr. Joel V. Dator, prior to the distribution.
Region XIII rice farmers received 21 units of four-wheel tractor, 41 units of hand tractor, 23 units of floating tiller, 3 units of rice precision seeder, 2 units of walk-behind mechanical rice transplanter, 5 units of riding-type mechanical rice transplanter, 8 units of rice reaper, 17 units of rice combine harvester and one unit of mechanical dryer.
It has an estimated amount of P85-M which is part of the 2019 P2-B budget of the program. More machines can be expected for the region as PHilMech is eager to accomplish the procurement under the 2019 P3-B and 2020 P5-B budgets.
The machinery grants are totally free and PHilMech does not require any monetary amount from FCAs for the processing and/or release of the machines.
Article by Jett Molech G. Subaba